Interested in becoming an exhibitor?
The Atrium Gallery is available to exhibit your research, or work generated by your professional and personal interests. Contact ssops@bournemouth.ac.uk to find out more.
View our Previous art exhibitions page to see the variety of work which has been on display in the Gallery.
Current and forthcoming exhibitions
Flock! Exhibition: 6 January – 28 February 2020
Atrium Gallery, Poole House, Talbot Campus - open to all.
Flock may be encountered in a variety of places. It is an important surface treatment that can be described as short monofilament fibres (flock) applied to adhesive coated surfaces. Flock is widely used in a variety of different contexts and it has a number of key qualities and benefits that make it enduring and endearing. Whilst often mistaken as velvet and referred to as 'fuzzy', flock is important and is not to be underestimated. Flock can help make our lives more comfortable, colourful and happy.
Flock can be applied to an array of surfaces, for example furniture, wallpaper, books, toys, car dashboards and textiles. Flock has many qualities – it can provide a luxury finish; it has sound deadening qualities; it can protect; it can provide an intricate and appealing decorative surface; it can aid the grip of an object; it can look and feel good.
The Flock! exhibition, curated by Dr Kirsten Hardie, explores the diverse and dynamic uses of flock across a range of contexts including interior design, fashion, publishing and packaging design. The exhibition considers the importance of flock through a colourful showcase of engaging and intriguing exhibits. Flock! aims to inform and surprise and provides a multisensory appreciation of flock so that flock's furry qualities can be experienced.
The exhibition showcases some wonderful examples of flock designs – a rich array of designs where flock is key to their use and appeal. Exhibits include: wallpaper designs from leading companies such as Cole and Son; Romo and Graham and Brown - including wallcovering designs by the esteemed designer Barbara Hulanicki for Graham and Brown. Exhibits also include Flotex floorcoverings by Forbo; books including the DK Braille Animals book (2016) and the Interiors: The Greatest Rooms of the Century by Phaidon (2019); greetings cards, fashion items, jewellery; kitsch; and wider design examples.
Enjoy the delights of flock!
Jumping in: Transgender and non-binary swimming LGBT+ art exhibition: 6 January – 27 March 2020

Lees Gallery, Lobby of Lees Lecture Theatre, Talbot Campus - open to all.
Transgender people's stories are sometimes lost during LGBT History Month (February). This LGBT+ art exhibition is about how a Bournemouth-based transgender social group participates in swimming, a physical activity that can be daunting because of the display of the body. Swimming and aquatic activity have positive mental and physical health benefits (Swim England, 2017). And yet, physical activity and sport can be unwelcoming to LGBT+ participants.
A Pride Sports study in 2016 showed that homophobic and transphobic language, and the acceptance of homophobic and transphobic banter continue to pervade physical activity and sport environments. The exhibition's artwork shows Communi-T members' positive and negative experiences of swimming and aquatic activity.
Curated by Jayne Caudwell. The exhibition materials and the swim sessions were funded by Leisure Studies Association.
The Wild in Wild Places: 6 January - 27 March 2020

Staff Centre, Poole House, Talbot Campus - BU staff access and their guests only.
DL is a self-taught artist with a love of wild places. He prefers to paint anonymously and took up art as an antidote to academic life a few years ago. DL works mainly in acrylics and watercolour and has also under taken installations in wood and stone. 
The collection of paintings being exhibited consists of a selection of work some digital, completed using the freeware Krita, and some in more traditional media. The digital images have a cinematic style reminiscent of the 1950s and feature British and Arctic landscapes. Penguins feature throughout DL's work, as do climbing motifs and solitary figures. BU has a long tradition in digital art and in environmental science which this exhibit celebrates, while drawing attention to fragility of wild places, of human endeavour within them and the need to conserve untamed landscapes. The exhibition runs throughout January and February 2020 in the Staff Gallery, which is part of the Staff Centre on Talbot Campus.
Breastfeed - Portraits with Purpose: 9 March – 1 May 2020
Atrium Gallery, Poole House, Talbot Campus - open to all.
Breastfeed: Portraits with Purpose, is the product of a programme by Leanne Pearce Billinghurst to help celebrate and normalise breastfeeding in communities with low breastfeeding rates.
The main exhibition will be part of a wider programme of free events and talks which are open to everyone. Visit Eventbrite for the full programme of events and to book your place, including the official exhibition opening. 
This is a celebration of breastfeeding and serves to explore various aspects of breast feeding, especially in British Society. Leanne's portraits reflect the colourful character and beaming energy that emanate from each of her subjects. The work is large scale, vibrant and fresh with each and every portrait a testament to the unique passionate story of what breastfeeding means to the woman and her children.
Leanne has created this new series of portraits with purpose, alongside a booklet about breastfeeding and the journeys of a broad cross section of mothers. To find out more visit www.leannepearce.co.uk. 
This collection of artworks has been exhibited in community venues and galleries across the country to stimulate discussions about various aspects of breastfeeding explore different perspectives and inform and educate the British public about the benefits of breastfeeding. The participants involved showcase the empowerment and celebration that breastfeeding was for them.
In association with the Faculty of Health & Social Sciences at Bournemouth University:
Dr Minesh Khashu
Consultant Neonatologist/Prof. of Perinatal Health HSS
Edwin van Teijlingen
Professor Of Reproductive Health, HSS
Dr Alison Taylor
Programme Lead for Midwifery
​Senior Lecturer in Midwifery & Infant Feeding Lead, HSS
Postgraduate Research Showcase - poster exhibition: 1 April - 26 June 2020
Lees Gallery, Lobby of Lees Lecture Theatre, Talbot Campus - open to all.
A showcase of postgraduate research currently taking place at BU. An opportunity to view posters presented as part of the Doctoral College 11th Annual Postgraduate Conference - visit the Lees Gallery to view the posters exhibited on the day.
Asking For It - photography exhibition: 7 May – 30 June 2020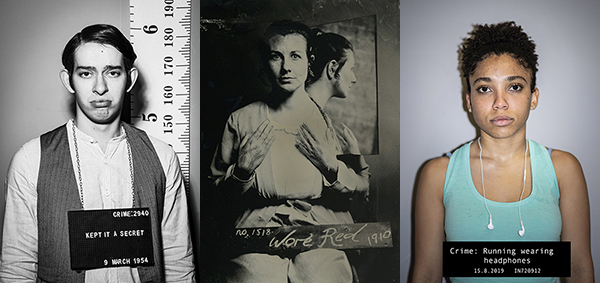 Atrium Gallery, Poole House, Talbot Campus - open to all.
An intriguing art project of 14 images to highlight and change opinions towards historical and current tendencies toward victim blaming, especially in cases of sexual and gender based violence.
The exhibition features a timeline of mug shot images from 1900 to the present day depicting a variety of portraits. Each 'mug shot' image has been carefully styled and made to represent a different decade. It uses actors, costume, make-up and heritage photographic methods, including wet plate collodian, to take the viewer on a remarkably authentic journey through history. Each image contains a 'crime' such as 'wore red' or 'swiped right', which viewers are invited to question. 
This project, by photographer Jayne Jackson, has been developed alongside and supported by the charity STARS (Sexual Trauma and Recovery Project) and Bournemouth University's Dr Peter Arabaci Hills and Jamie Fletcher. 
A preview of the project has appeared on BBC South Today and generated national media interest such as BBC Radio 5 Live and BBC Radio Solent, but this is the first time the full exhibition will be available for public viewing. 
The project can also be followed on Twitter: @consent_aware and Instagram: @jaynejacksonphotography.
You can contact Jayne via email: jaynejacksonphotography@gmail.com or visit her website: www.jaynejacksonphotography.co.uk/asking-for-it.